Our Clients
The SLG client roster includes: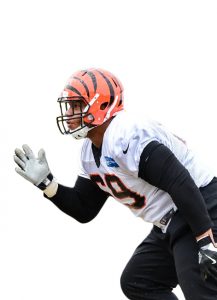 Niles Scott
6'2" 315 lbs
Birthday: 9/30/1995
Hometown: Elkton, MD
High School: Elkton
Niles is a Defensive Lineman for the Cincinnati Bengals. Niles signed with the San Francisco 49ers as a Priority Free Agent following the 2018 NFL Draft. Niles played his college football at Frostburg State University, where he earned AP All-American honors two years in a row.
Paul Butler
6'5" 255 lbs
Birthday: 4/26/1993
Hometown: DuBois, PA
High School: DuBois High School
Paul is a Tight End for the Oakland Raiders. After playing in the 2018 Spring League in Austin, Texas, the Raiders' scouts were impressed with Paul's practices and invited him to Rookie Mini Camp where they signed him as an Undrafted Free Agent. Paul played his college football at California University of Pennsylvania, located about an hour from Pittsburgh.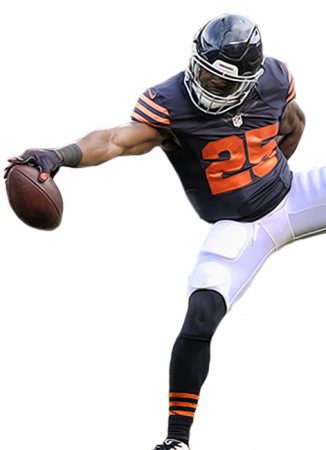 Ka'Deem Carey
5'9" 211 lbs
Birthday: 10/20/92
Hometown: Tucson, AZ
High School: Canyon Del Oro
Ka'Deem is currently a Running Back for the Calgary Stampeders in the CFL. He was a 2014 4th Round Draft Pick (117th Overall) and Running Back for the Chicago Bears. He played his college football at the University of Arizona where he earned All-American honors in 2012 and 2013, Pac-12 Offensive Player of the Year in 2013, and First Team All Pac-12 in 2012 and 2013. His current NFL stats are 443 Rushing Yards, 2 Rushing TDs, 13 Receptions, 131 Receiving Yards and 1 Receiving TD. Ka'Deem lives in Tucson with his wife Missy. Together, they have three children.
​Devin Butler
6' 193 lbs
Birthday: 4/7/95
Hometown: Washington, D.C.
High School: Gonzaga College High School
Devin is an International Defensive Back and SAM Linebacker for the Ottawa Red Blacks in the CFL. He played his first three seasons of college football for the Notre Dame Fighting Irish and his final college season at Syracuse. In his college career, Devin recorded a total of 59 Tackles, 2 Tackles For Loss, 1 Interception, 1 Sack and 9 Pass Breakups in 49 games.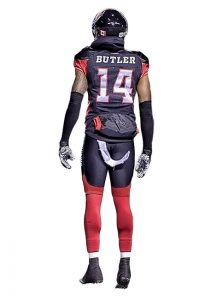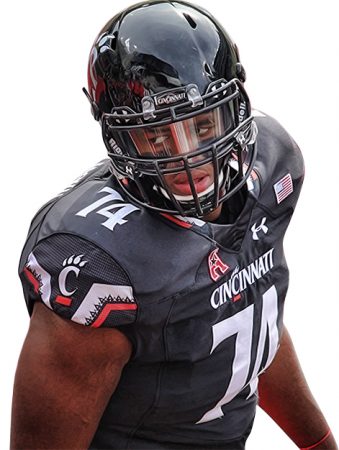 Kendall​ Calhoun
6'6" 305 lbs
Birthday: 12/27/94
Hometown: Paducah, KY
High School: Tilghman
Kendall Calhoun is an offensive tackle for the Atlanta Legends, of the newly-formed Alliance of American Football League (AAF). Kendall spent time with the Houston Texans and Atlanta Falcons before signing with The Legends.
​Bobby Jones
6' 225 lbs
Birthday: 7/23/1995
Hometown: Miami Gardens, FL
High School: Monsignor Pace
Bobby is a highly-productive, sure-tackling Linebacker from Northern Illinois University. During his senior season at NIU, Bobby captained the defense with 107 Tackles, 12.5 Tackles for Loss, and 5 Sacks, earning him All-MAC honors in 2017. Bobby had workouts for the Chicago Bears, the Miami Dolphins, and was invited to the Jacksonville Jaguars 2018 Rookie Mini Camp. He is currently a free agent, and training and staying ready for the next opportunity.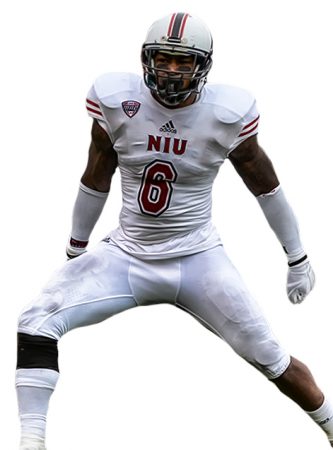 Members of our agency have represented the following players
| | | | | | |
| --- | --- | --- | --- | --- | --- |
| Player | Drafting Team | Position | College | Round | Year |
| Bob Buczkowski | Raiders | DE | Pittsburgh | 1 | 1986 |
| Tony Woods | Seahawks | DE/LB | Pittsburg | 1 | 1987 |
| Craig Heyward | Saints | RB | Pittsburgh | 1 | 1988 |
| Renaldo Turnbull | Saints | DE/LB | West Virginia | 1 | 1990 |
| J.D. Williams | Bills | CB | Fresno St. | 1 | 1990 |
| John Fina | Bills | OT | Arizona | 1 | 1992 |
| Mark Chmura | Packers | TE | Boston College | 6 | 1992 |
| Ernest Dye | Cardinals | OT | South Carolina | 1 | 1993 |
| Rob Fredrickson | Raiders | LB | Michigan St | 1 | 1994 |
| Joey Galloway | Seahawks | WR | Ohio St | 1 | 1995 |
| Ruben Brown | Bills | OG | Pittsburgh | 1 | 1995 |
| Kevin Hardy | Jaguars | LB | Illinois | 1 | 1996 |
| Bobby Hoying | Eagles | QB | Ohio St | 3 | 1996 |
| John Tait | Cheifs | OT | BYU | 1 | 1999 |
| Lamar King | Seahawks | DE | Saginaw Valley | 1 | 1999 |
| Erik Flowers | Bills | DE | Arizona St | 1 | 2000 |
| Rob Morris | Colts | LB | BYU | 1 | 2000 |
| Kendal Simmons | Stellers | OG | Auburn | 1 | 2002 |
| Jordan Gross | Panthers | OT | Utah | 1 | 2003 |
| Rashaun Woods | 49ers | WR | Oklahoma St. | 1 | 2004 |
| Erasmus James | Vikings | DE | Wisconsin | 1 | 2005 |
| Barret Ruud | Buccaneers | LB | Nebraska | 2 | 2005 |
| Charlie Frye | Browns | QB | Akron | 3 | 2005 |
| Vernon Davis | 49ers | TE | Maryland | 1 | 2006 |
| Lawrence Maroney | Patriots | RB | Minnesota | 1 | 2006 |
| Jamarcus Russell | Raiders | QB | LSU | 1 | 2007 |
| Dwayne Bowe | Chiefs | WR | LSU | 1 | 2007 |
| Sidney Rice | Vikings | WR | South Carolina | 2 | 2007 |
| Jeff Otah | Panthers | OT | Pittsburgh | 1 | 2008 |
| Justin King | Rams | CB | Penn St | 4 | 2008 |
| Kevin O'Connell | Patriots | QB | San Diego St | 3 | 2008 |
| Keith Null | Rams | QB | W Texas A&M | 6 | 2009 |
| Jon Asamoah | Chiefs | OG | Illinois | 3 | 2010 |
| Arthur Jones | Ravens | DT | Syracuse | 5 | 2010 |
| Tyron Smith | Cowboys | OT | USC | 1 | 2011 |
| Danny Watkins | Eagles | OG | Baylor | 1 | 2011 |
| Greg McElroy | Jets | QB | Alabama | 7 | 2011 |
| Chandler Jones | Patriots | DE | Syracuse | 1 | 2012 |
| Kevin Zeitler | Bengals | OG | Wisconsin | 1 | 2012 |
| Nick Perry | Packers | LB | USC | 1 | 2012 |
| Mike Adams | Steelers | OT | Ohio St | 2 | 2012 |
| Corey Lemonier | 49ers | LB | Auburn | 3 | 2013 |
| Sean Renfree | Falcons | QB | Duke | 7 | 2013 |
| Greg Robinson | Rams | OT | Auburn | 1 | 2014 |